HomeopathyWest.com presents Peter Tumminello
Psyche and Structure
Speaker – Peter Tumminello
October 11th – 13th, 2019 (optional field trip, Oct. 14)
Corte Madera, CA USA
http://www.homeopathywest.com/page/peter-tumminello
Highlights of the seminar:
Peter will share his deep understanding of crystal structures, a powerful key to unlock prescriptions to the vast array of mineral remedies. Peter's experience in crystal structure is the fruit of decades of work proving new gemstone and crystal remedies, and ten years of research into the commonalities of the 7 basic crystal structures, plus the 8th structureless state, that form all minerals. It is a rich complement to the work of Sankaran, Scholten and Welte. This seminar is an exposition of the material presented in Peter's recent book, Psyche and Structure, and builds on his previous book, Twelve Jewels.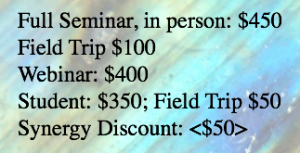 This will be Peter's only seminar in the Americas in 2019!
To register: http://www.homeopathywest.com/page/peter-tumminello
11/10/19 - 13/10/19
Corte Madera, CA USA